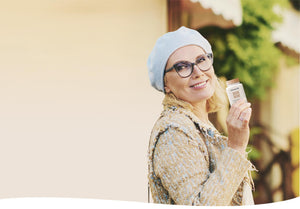 BEYOND PROBIOTICS.
We're more than a probiotic. We're the first ever "anthrobiotic" designed using highly-tested Smart Strains™ that target common allergy, gut, and immune health issues at the source.
ORDER NOW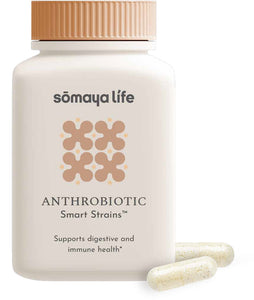 WHAT ARE
ANTHROBIOTICS?
Anthrobiotics contain targeted strains of good bacteria that actually modulate the immune system, rather than just support the immune system like a probiotic.
At Somaya Life, we've identified the specific Smart Strains your body needs and brought them together to create a supplement that gets real results. These targeted strains have been scientifically proven to improve digestion, immune communication, microbiome balance, and gut acid.
LEARN MORE
Benefits of Somaya Life
Digestive health
The gut communicates with everything in your body. Somaya Life will help you naturally balance your microbiome to reduce a plethora of digestive issues, including constipation, diarrhea, bloating, allergies, inflammation, and more.
Preventative wellness
Preservatives, pollutants, chemicals, sugars, alcohol, age, travel, inconsistent eating patterns, and other factors negatively impact your body on a daily basis. Somaya Life can help proactively boost your immune system to fight against these triggers so you stay healthy and avoid expensive doctor visits and harsh medications.
Safe & natural
All the microorganisms found in Somaya Life are naturally found in your body, which means there are no negative side effects, complications, or overdose concerns compared to typical prescription drugs. All our products go through a rigorous quality check in our FDA-registered facility to ensure safety.
Testimonials
DON'T TAKE OUR WORD FOR IT.
Our customers love our product. Here's what they have to say about it.
SHOP ANTHROBIOTICS NOW
Reviewed by
Carla Riesterer-Brunette
"
Recently my 16 old daughter was diagnosed with Covid-19. Her symptoms started out as a massive headache, congestion, aches and pains and extreme fatigue.
I started the family on Somaya Life immediately. My husband and I took 3 pills a day during our quarantine and our 9 & 8 year old took one a day. 
My 16 year starting taking Somaya Life on her 2nd day of symptoms. She took 6 pills her 2nd day into symptoms, 9 pills the two days after that and 12 pills the following day to wake up on the 5th day symptom free and feeling human again. 
In talking to my friend, she also came down with Covid-19 and she didn't take anything for her symptoms. She was extremely sick for 12 days straight with same symptoms as my daughter, but much more intense. Thanks to Somaya Life, I feel my daughter was able to kick it quickly and no one else in the family tested positive or experienced any symptoms during our quarantine of 14 days.
"
Reviewed by
Ron Moore, Pennsylvania
"
I was introduced to the Priority One products in 2008. The results I've witnessed in animals has simply been amazing. My wife and I have been taking Gold Spike, then Gold Spike-H, now Somaya Life for almost 9 years. We take a maintenance level of Somaya Life everyday and if we ever feel OFF, we double up. Our health has improved greatly I've had one flu shot in my life. This works for me and my family along with the group of people I sell to. Just this past week a lady called to reorder and her praise about Somaya Life just bubbled out of her. Now her husband will be giving it a try as well. Many thanks to Priority!
"
Reviewed by
Mark Riesterer, Wisconsin
"
I have been challenged with numerous autoimmune disorders over the last 2 years. Somaya Life has been extremely beneficial to me during these times. I believe that because of Somaya Life I have not had a need for a Remicade infusion for the last 6 months. My wife and I both take Somaya Life daily to help regulate and support our immune systems.
"
Reviewed by
Daniel Rodas, Ecuador
"
Somaya Life is an amazing product, it really change my life and the way I use to treat my health challenges (asthma, allergies). Trust your gut with the Smart Strains of bennefical bacteria.
"
Reviewed by
William Indoe, Ohio
"
I have been using p one products for I believe 14 years. The products just flat out work. It's been very easy to encourage nieghbors and others to try them also. So when I developed a health issue a few years back , I was told to hit the gold spike hard! Especially the month before pituitary tumor surgery. Luckily everything went well and I was out of the hospital only after one day. The doctors were somewhat surprised how good my bloodwork was. Needless to say I have promoted what has now become Somaya Life to many people facing health issues. From cancer , irritable bowel, pneumonia, and even those with allergies. It's a product with no side effects and can be taken with other meds. It's amazing what your body will do with an immune system that's built up 3-400 %.
"
Reviewed by
Lisa Hurley, Minnesota
"
Tom's dad started on Goldspike five years ago to see if it would help his type 2 diabetes and found that it relieved the arthritis in his right shoulder. After a month on Goldspike he was able to stop taking ibuprofen or aspirin for the pain. Transitioning to Goldspike H led to improving his diabetes management and reducing his heart medication by half. Tom's parents are in their 80's and are taking 2 capsules each day since the pandemic started. They remain in good health, believe in the Goldspike H and look forward to transitioning to Somaya Life.
"
Reviewed by
Morgan Burns, Wisconsin
"
When I first started taking Somaya life, I didn't notice a huge difference in how I felt. I'm generally a pretty healthy person, so I feel good most of the time. When Spring hit, that's when I noticed a huge difference! I usually have pretty horrible allergies that knock me down hard unless I take Zyrtec several times a day. I haven't taken any Zyrtec the entire season and I barely notice my allergies. On days when the pollen is worse, I just double up on the Somaya Life and it works like a charm. I understand the science behind the product, but I was still pretty shocked at how much it helped.
"
Reviewed by
Lisa Hurley, Minnesota
"
I absolutely love this product, but my favourite thing about it was the customer service and easy returns. I found what worked for me with ease. Thank you store!
"